Bras D'Or Lake may be called a lake, but this is really Canada's inland sea! A mecca for anglers, sailors, and adventurers. Here, you'll find saltwater fringed by deep forested hills and culture abound.  The variety of fish species you will encounter is truly one of a kind. Explore this UNESCO designated Biosphere by boat, navigating this unique salt-water estuary, a blend of Arctic and warm subtropical oceans. The shore also offers bountiful angling opportunities that are popular with locals and repeat visitors. While exploring the welcoming communities that surround the 1000 km of coastline, discover a rich history which includes the first inhabitants, Mi'kmaq.
If you are looking for a place to launch your boat, Baddeck Yacht Club and Marble Mountain (Clarkes Cove) both have well maintained, fee-for-use Boat Launches with ample parking.
Other day-use options for boat launch ramps include:
• Wycocomagh Waterfront Centre
• Ben Eoin Yacht Club & Marina
• Ben Eoin Campground
• Ross Ferry Marine Park
• Dundee Provincial Park
• St. Peters Canal
• Iona Port Beach Wharf
• St. Peters Lions Club Marina
You'll want to plan a few trips to Bras d'Or since every season offers exciting angling experiences. Angling in cold clear spring water or ice fishing on a frozen oasis, get ready for trophy catches!
Species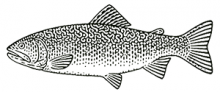 Brook Trout | Salvelinus fontinalis

Rainbow Trout | Oncorhynchus mykiss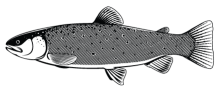 Brown Trout | Salmo trutta

Striped Bass | Morone saxatilis
Accommodations
Showing
1
-
3
of 3 accommodations
Regulations
This fishing area is enforced following general regulations, seasons, and bag limits. There is also an extended season for Rainbow & Brown Trout, with a reduced bag limit. Please refer to the most recent Nova Scotia Anglers' Handbook for details regarding specific regulations: