46.6460791, -60.4018279
37637 Cabot Trail Rd, Ingonish Beach, NS B0C 1L0
ingonish NS
Canada
Renowned for its beautiful ocean vistas, hiking trails and Atlantic beaches, Cape Breton Highlands National Park also offers quality angling for those looking for a backcountry fishing experience, particularly if you're aiming for Brook Trout. Remote settings will surely guarantee you breathtaking views, and perhaps even a wildlife encounter with a moose. Access the park's fishing opportunities via Cape Breton's stunning Cabot Trail.
Species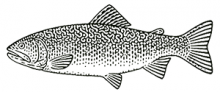 Brook Trout | Salvelinus fontinalis
Accommodations
Showing
1
-
3
of 3 accommodations
Special Management Area
Cape Breton Highlands National Park requires a National Parks General Fishing Permit, and/or a National Parks Salmon License, as well as a Park Entry Permit to fish in the park. Please contact the Park Office for more information on their rules/regulations.