45.0726415653, -64.473476789039
8751 Commercial Street
New Minas NS B4N 3C4
Canada
Flowing directly through the center of Kentville before emptying into the Minas Basin near Wolfville, the Cornwallis River offers excellent fishing opportunities for Brown and Brook Trout. This river is conveniently located in our beautiful valley that boasts stunning views, vineyards, hiking trails (consider Cape Split Trail), and beaches influenced by Bay of Fundy tides. Cornwallis also offers night fishing for Brown Trout from April to December.
Species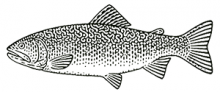 Brook Trout | Salvelinus fontinalis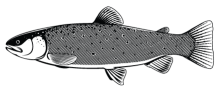 Brown Trout | Salmo trutta
Regulations
Cornwallis River offers night fishing opportunities for Brown Trout. For details, please review the Nova Scotia Anglers' Handbook:
Special Management Area
Cornwallis River is a Special Trout Management Area. Please refer to the most recent Nova Scotia Anglers' Handbook for details regarding specific regulations.