46.427306, -61.097333
172 South Cormier Road
Margaree Harbour NS B0E 2B0
Canada
One of Nova Scotia's largest and most valuable watersheds - the Margaree is a Canadian Heritage River that hosts strong runs of Atlantic Salmon, sea run trout, Gaspereau and Striped Bass. 
The river has two distinct branches - the main branch is the Northeast Margaree which flows from the Western Cape Breton highlands to the sea. The Southwest Margaree begins in Lake Ainslie and connects to the Northeast at the infamous Forks pool in Margaree Forks. The river is 120km in length and drains an area of 1,375 km². From June to October, fly fishers from around the world come to Margaree in hopes of catching a large, adult salmon. Fishing is highly regulated today and is restricted to fly fishing with barbless hooks. 
Salmon pools are well-mapped and all water is public. Pool rotation etiquette is an important feature of the river and must be followed. There are many local guides available, and hiring one for a day or for your trip will help learn the river and dramatically increase your chances of hooking a fish of a lifetime.
Beautiful natural surroundings including the Cape Breton highlands, pastoral valley, wonderful ocean beaches, and a wide array of local culture, music, businesses and accommodations make the Margaree a truly special destination that should be on the bucket list of any angler.
Species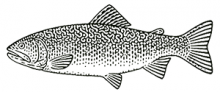 Brook Trout | Salvelinus fontinalis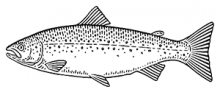 Atlantic Salmon | Salmo salar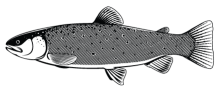 Brown Trout | Salmo trutta

Striped Bass | Morone saxatilis
Accommodations
Showing
1
-
3
of 3 accommodations
Regulations
Atlantic Salmon are managed by the Department of Fisheries and Oceans (DFO). Please see their website for more information regarding specific regulations:
https://www.glf.dfo-mpo.gc.ca/en/recreational-fisheries
For a complete list of regulations, please review Nova Scotia Anglers' Handbook:
Special Management Area
Margaree River is a Special Trout Management Area. Please refer to the most recent Nova Scotia Anglers' Handbook for details regarding specific regulations.