Within an hour's drive from both Halifax and Wolfville, you can reach Panuke Lake - one of Nova Scotia's longest lakes. This uniquely shaped lake is a popular location for Smallmouth Bass, and is often used for Smallmouth Bass Tournaments within the province. Access this remote lake via Panuke Road on the northwestern side, where there is ample parking with a public dock and well-kept boat launch at Panuke Lake Boat Launch. There is also plentiful shoreline if you'd like to fish from the shore.
Species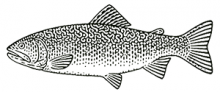 Brook Trout | Salvelinus fontinalis

Smallmouth Bass | Micropterus dolomieu
Regulations
For a complete list of regulations, please review the Nova Scotia Anglers' Handbook:
Special Management Area
Panuke Lake is a Special Bass Management Area. Please refer to the most recent Nova Scotia Anglers' Handbook for details regarding specific regulations.