45.15259800346, -61.975979999101
8404 Nova Scotia Trunk 7
Sherbrooke NS B0J 3C0
Canada
St. Mary's River Interpretive Centre is your first stop when visiting this historical river. Find out the history and ecological significance of the area. You may even luck out on getting an insider tip on where to find a nice Brook Trout. Even famed Babe Ruth loved casting a fly on the river while visiting Nova Scotia. Not only a popular kayaking destination, there are beautiful provincial parks and walking trails nearby. You will no doubt find a little piece of river to settle in for the day.
Species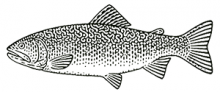 Brook Trout | Salvelinus fontinalis
Regulations
Please refer to Anglers' Handbook for complete regulations:
Special Management Area
St. Mary's River is a Special Trout Management Area. Please refer to the most recent Nova Scotia Anglers' Handbook for details regarding specific regulations.