You'll truly be embracing Nova Scotia's southwesternmost coast while visiting the Tusket River. Filled with a dynamic system of lakes linked throughout the river, the Tusket offers a unique fishing combination of mostly Smallmouth Bass in its lower reaches, and Brook Trout in its headwaters. Plentiful access to nearby lakes, hiking trails and winding coastal roads makes the Tusket River worth the trip.
Species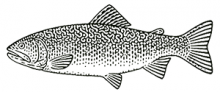 Brook Trout | Salvelinus fontinalis

Smallmouth Bass | Micropterus dolomieu
Regulations
The Tusket River has a seasonal angling closure in the spring. For details, please review the Nova Scotia Anglers' Handbook:
Special Management Area
Big Meadow Brook, of the Tusket River, is a Special Trout Management Area. Please refer to the most recent Nova Scotia Anglers' Handbook for details regarding specific regulations.